Many, and I mean many years ago, I created, produced and hosted a daily afternoon childrens television show that could best be described as like watching the TONIGHT SHOW in the afternoon. CLUBHOUSE 22 (WKEF-TV Channel 22) consisted of daily stand-up comedy, all kinds of projects for kids, cartoons, and a panoply of guests from Senator John Glen (the astronaut) to Muhammad Ali, to a wine representative from the Bordeaux region of France who gave viewers a primer on France, the Bordeaux region, and French wines...all on a kids show no less. A kids show by the way that was the run-away winner in it's time slot, and a show that was viewed by pre-schoolers, elementary kids, high school kids, college kids, factory workers and anyone else that was home in the late afternoon. The following is a series of photos from that show.

A young Muhammad Ali.

Soupy Sales...what more do I need to say!

Here's Soupy supposedly showing me how to throw a cream pie at "Famous Fred Famey from Fostoria" (the now deceased Johnny Walker). Soupy was famous for throwing cream pies.

One of my sidekicks on the show was "Duffy the Dog." The name Duffy (Duffy T. Dog) was chosen by one of my viewers in a contest. The puppet character (Stan the Man) in this photo was created by Kurt McGlocklin.

Many years after having created Clubhouse 22 I came across this next photo of my Uncle Malcolm as a child with his dog. Believe it or not, my Uncle's dog's name was Duffy!

This next photo is of one of Dayton's most popular ever disc jockeys, Steve Kirk from WING Radio. Aaaachachachachac! Steve now lives in Ponce Inlet, Florida just south of Daytona Beach and is doing great.

This is a photo of a very young Johnny Whitaker. Johnny starred as the character "Jody" on the television series Family Affair. Starring along with Johnny were Annisa Jones as Jody's sister "Buffy," Sebastian Cabot as their butler, and Brian Keith as their Uncle.

This next photo is my friend the late Bill Bixby. Bill starred on television in My Favorite Martian, The Courtship of Eddie's Father, and The Hulk. Bill also direct numerous television shows, including several episodes of Room 222.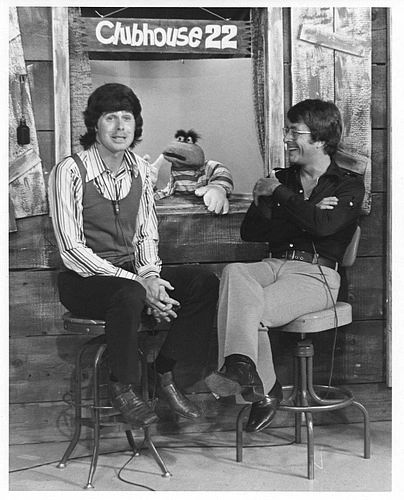 The next picture is of Bill Bixby's late wife, the beautiful actress Brenda Bennet. I took this picture at Bill and Brenda's beach house in Malibu, California.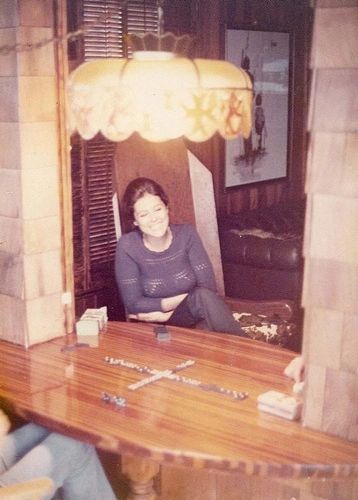 Next is Karen Valentine. Karen followed Sally Field in the sequal to the movie Gidget. Karen played Gidget in Gidget Grows Up. Karen also starred in the TV-series Room 222.

These are the Oakwood High School Majorettes, including Drum Majorette Sue Stratis and Majorettes Sandy Brown, Pam Dornbush, Melody Wisher, Barb Mate and Kathy Huntsburger. As a local TV personality I did lots of personal appearances...tough job as you can see.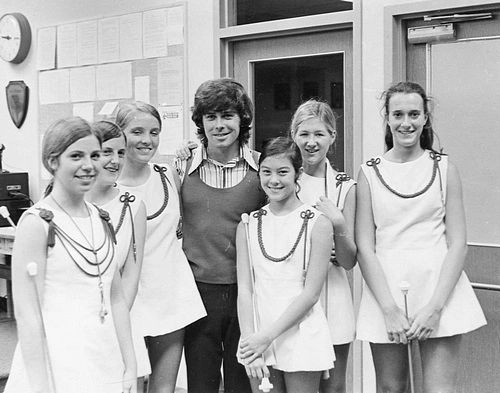 This next guy is pretty obvious. I was very involved in the Muscular Dystrophy Drives back in those days. And. Jerry Lewis is still very involved to this day with MDA (the Muscular Dystrophy Association).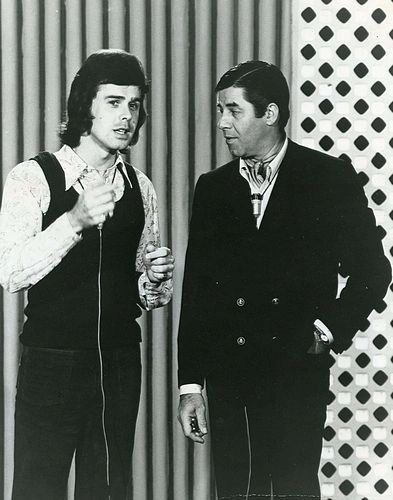 I need to tell a short story here. These next two photos are of a lovely woman named Laura Liss. Laura drove about 50 miles from her home to visit me and ask if I would take the time to meet a student from her dance school. This dancer was a young boy who had cancer and very much wanted to meet me. The boy's name was David Flory, and I not only met David, but I became good friends with David and his parents. I also emceed Laura's dance school annual recital. That's a picture below of David and me on stage at the dance recital and another photo of David and me together. David was one terrific and brave young man who I never once heard complain about his cancer. David passed away not too long after the photo of the two of us was taken.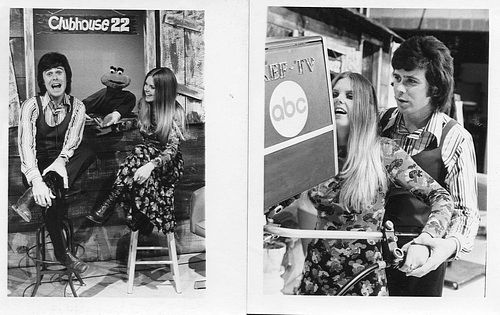 I used to shoot film of my "extra curricular activities' and show them on my television show. The kids loved watching the amazing exploits of Malcolm. I jumped out of airplanes, became a pilot and flew airplanes, raced cars (as you will see below), and in the next photo flew in an F-4 Phantom Jet with Air force test pilot Major Robert Ettinger. This flight wss particularly significant to me because the F-4 was the key jet fighter in the Vietnam War. And, I am a proud Vietnam Veteran.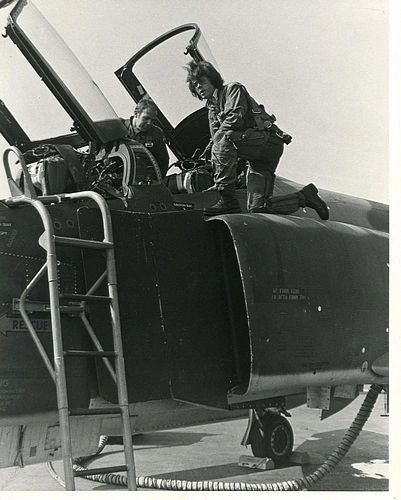 Next is actor/director Richard Benamin. Richard starred in numerous movies, including GoodbyeColumbus, Westworld, Catch 22, and The Sunshine Boys. Richard also starred with the Barnstable twins in the TV sit-com QUARK about a garbage collecting space ship.

Many of you probably remember Gary Puckett and the Union Gap. That's Gary on the left next to my puppet "Stan the Man." Gary and his band had a slew of hit songs, including Young Girl, Woman, Over You, and This Girl is a Woman Now. Gary is still very active in the music industry and lives in Clearwater, Florida.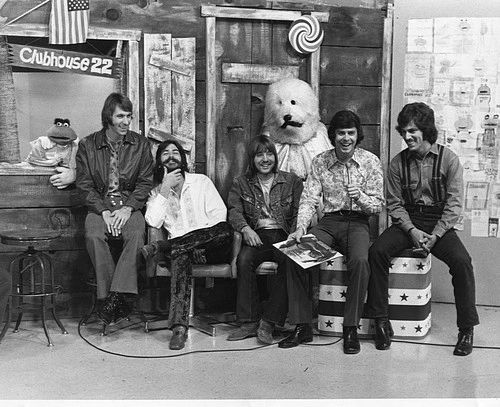 The puppet character "Stan the Man" was the creation of the talented Kurt McGlocklin. The dog character, better known as "Duffy the Dog," was played by my number one right hand man and producer John Norris.

As mentioned above, we did all kinds of unique, crazy, fund and different things on Clubhouse 22. In the next photo I am giving blood, live on TV, to educate kids about the importance of donating blood.

These really cute twin girls are the daughters of well known Dayton photographer Pat Easterling. This was one of a number of photos taken for a TV-Guide Ad. The finished product (ad) is just below.

Here's another fun photo for me. We were teaching kids all about artichokes...where they come from...how you cook them...how to eat them. This is a photo of my good friend David Hulme, owner of the best steak house in America, the Pine Club. next door to the University of Dayton. Did I say that right Dave? Now you owe me a beer! By the way Dave, what was her name?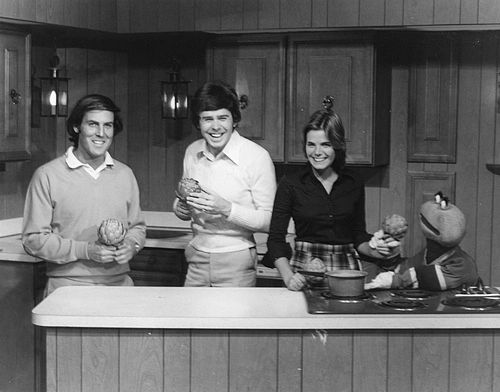 As mentioned above, I shot film of my many "adventures" and showed the film on my show...and the kids loved it. One of my extra-curricular activities was racing as you will see below. The first photo is me with my first race car, a Showroom Stock Sedan Ford Pinto.

The photo above is a "before" picture. Next are the afters!

Pinto #2

I had to include a photo of a couple of my race cronies. That's Dave Luciano on the left and Rob Taylor on the right.
My next car was designed and built by Ed Cromwell. I guess you would call it the Cromwell Special. Mr. Ed as he was known was the mechanical genius behind my racing.

This car was a "loaner" from Dave Dennis Volkswagon for an all Volkswagon Scirocco Race at Watkins Glen, New York the weekend of the American Grand Prix.

My next race car (below) was a Formula ford that I acquired from the late Skip Walther. You might remember Skip's brother Salt Walther from his spectacular and firey crash in the Indy 500. That's Chip Mead (Mead Paper family) in the dark blue shirt in the background. St. Louis racer James King with the long blond hair & beard, and Ardie Bonanno of Allied Wine & Spirits in the brown jacket. Allied Wine's Zonin Lambrusco was one of our sponsors.


Next is a photo of "our" race team, FASTRACK OPERATIONS. From left to right are Bill Kuntz (Peter Kuntz Lumber Company family), John Higgins (now the owner of Lexus of Dayton), me, and Chip Mead. Chip died in a plane crash in California several years ago.

In this next photo I am the car on the right side of the front row. The driver on the left was Ken Duclos from the Boston area who was the reigning National Champion for Formula-B

Next is me with another good racing friend and top-notch mechanic, Ed Bohenick. This photo was taken at Limerock, Connecticut at the first, annual,
Car & Driver
magazine Showroom Stock Showdown.
My Chevron B-18 Formula B.

The Molson Grand Prix in Trois Rivieres, Quebec, Canada.


Enough about racing...this is a photo of one of our many personal appearances. I think this one was at the old Salem Mall.

Performing at the Montgomery County Fair.

This is a photo taken in Washington D.C. with two winners of our Muscular Dystrophy
Carnivals
for Kids
project. From left to right, after me, are Mrs. Martha Kleinhenz, Mrs. Kathryn Costillo, The Honorable Charles Whalen, Jr. (Ohio Congressman), Billy Costillo (MD winner), and Debbie Kleinhenz (winner). The
Carnivals for Kids
program raised money for Muscular Dystrophy, and each year I took a boy and a girl carnival participant on a trip.
This photo is from a TV-22 charity basketball game. I'm the 2nd ballplayer from the left. The first ballplayer on the left is Bill Snyder from the TV-22 sales department; the third TV-22 ballplayer from the left is Billy McCool, TV-22 sportscaster and former Cincinnati Reds pitcher; and the 4th TV-22 ballplayer is former TV-22 General Manager Jim Graham.

One of my many speaking/MC engagements.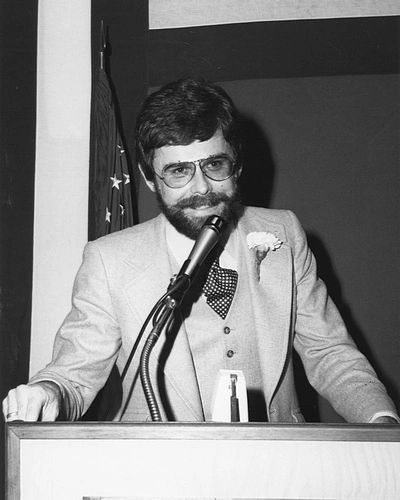 Another one of those tough jobs!

I mentioned above that I was a Vietnam Veteran. Here's a photo of me taken in Vietnam before Clubhouse 22 with a "showbiz" connection. Do you recognize the tall guy in the middle?


Another day in the studio.

One of our "promotion" photos.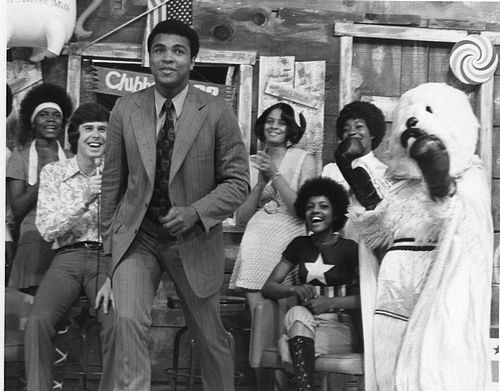 I hope you enjoyed this short trip down memory land. This is the first web-site I built myself, so if it looks more like a home movie than a big screen production, I hope you will understand. By the way, for those of you who hung around until the end, it's been 36 years since I left Clubhouse 22 (1974), and 31 years since the talk show photos. So if you visit my real estate web-site and wonder who that old guy is in the photo...now you know!

I invite you to visit my Palm Beach, Florida real estate web-site at
palmbeach-malcolm.com
.
I also invite you to take a photo tour of Beautiful Palm Beach at
palmbeachphototour.com
.
For some really fun Dayton nostalgia I encourage you to visit
www.mhs77.com
and click on the
NOSTALGIA
navigation button.
I can be contacted at
macleodpb@aol.com
Catchalater...
Malcolm