This web-site is presented by Palm Beach, Florida real estate Broker/Associate Malcolm W. MacLeod. You're also invited to visit Malcolm's real estate web-site at palmbeach-malcolm.com. Or take a photo tour of beautiful Palm Beach, Florida at palmbeachphototour.com.

Everyone has a "past," and part of mine entailed working several years in broadcasting (radio & TV). Over the years friends and family have asked me if I had any photos I could share with them from my television days. So in response I put this simple web-site together. I hope you enjoy these photos of some people I worked with back in the 70s. The photo above for example was taken around 1978.

My broadcasting career, both radio & television, includes everything from foreign news correspondent, to kids show TV-host, news, weather & sports, to talk show host in Hong Kong, Dayton, Chicago and New York. The photos on this page are from one of my talk shows and the other guy in these first few photos is obviously my old friend Phil Donahue.

Next is a photo of one of my all time favorites, the wonderful and really funny Phyllis Diller.
The following three photos include (1) the beautiful and talented actress, singer & dancer Carol Lawrence (once upon a time married to Broadway singer & actor Robert Goulet); (2) song & dance man and really nice guy, the late Bobby Van; and (3) actor Ronnie Cox and comedian Pat Paulson who you might remember from his Presidential campaigns on the Smothers Brothers Show.

These next three photos include (1) publisher Larry Flynt (Hustler Magazine); (2) actress Brenda Vaccaro; and (3) actor Claude Akins. The photo of Larry Flynt was taken shortly before Larry was shot in an assassination attempt in 1978 resulting in his permanent partial paralysis. How would I describe Larry? Bright, really bright. I first saw Brenda Vaccaro in the John Voight/Dustin Hoffman movie Midnight Cowboy. Claude Akins appeared in a lot films over the years, including the Caine Mutiny, From Here to Eternity, Rio Bravo with John Wayne and Planet of the Apes.

Next are photos of (1) actress Luci Arnaz (Lucille Ball's daughter); (2) comedian Pete Barbuti; and (3) the infamous atheist activist Madalyn Murray O'Hair. Ms O'Hair was best known for the lawsuit Murray vs Curlett which led to a landmark Supreme Court ruling that ended the practice of prayer in public schools.

Like most talk shows, animals were always great guests. In this case I had the benefit of hosting some wonderful animals along with the another great guest, the beautiful Meredith MacRae. You might remember Meredith from the TV show Petticoat Junction. Meredith's father was the stage and film actor/singer Gordon MacRae, star of the film Oklahoma.

Monkey see monkey do!

Next is the hilarious Carolyn Rose, ex-wife of Cincinnati Red's baseball player Pete Rose. If you think Pete Rose is outspoken...you should experience Carolyn. Carolyn was certainly "Charlie Hustle's" match. Carolyn's photo is followed by a cartoon of guest Tiny Tim. You might remember Tiny Tim from his rendition of Tip Toe Through the Tulips and his wedding on the Tonight Show with Johnny Carson. Life is comprised of some pretty strange people. The cartoon of Tiny Tim is being drawn by Pulitzer Price winning editorial cartoonist Mike Peters whose cartoons are seen on a regular basis in many newspapers as well as Newsweek magazine. Mike is also the creator of the cartoon strip Mother Goose & Grimm.

The usual TV talk show fashion show...anything for ratings!
The next three photos include, (1) tiny Tim; (2) popular mid-western country western singer Bonnie Lou, and (3) and Ford model Lowell McGlothin and his wife (at the time) model and actress Cyb (Priscilla) Barnstable. Cyb and her twin sister (Patricia) were University of Kentucky cheerleaders prior to their successful modeling career in New York with the Ford modeling agency. You might remember the Barnstable twins from their Doublemint Gum commercials and the Richard Benjamin TV sit-com called QUARK about a garbage collecting space ship.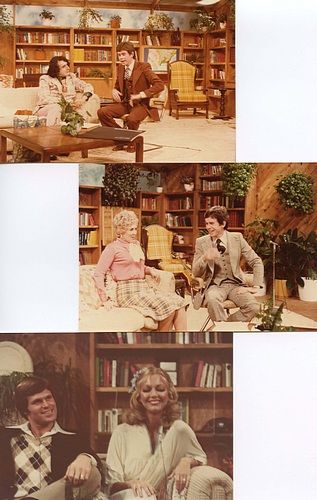 Next is television news-anchor (at the time) and now PBS host Nick Clooney. Nick is the younger brother of the late, great singer Rosemary Clooney, and father of actor George Clooney. Nick is followed by Abigale Van Buren (otherwise known as Dear Abbey). Knowing me, I probably didn't follow Dear Abbey's advice. Next is Olympic Gold Medal winner and World Champion boxer Sugar Ray Leonard. Terrific guy. Very gentle, very down to earth...probably until he got into the ring.

Unless you're from the mid-west you may not recognize popular mid-western television personality (and avid collect of vintage Cadillacs) Bob Braun. Bob was the side-kick for broadcast pioneer Ruth Lyons of Cincinnati, Ohio's famous 50/50 Club. Bob eventually took over as host of the 50/50 club.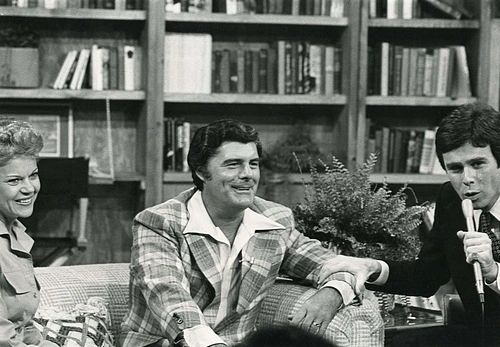 Here's another Cincinnati television personality people will remember from the Bob Braun Show, the Paul Dixon Show, Mid-Western Hayride and Dayton's Dick Curtiss Show...the really sweet Colleen Sharp.

Next is author, chef, butcher, syndicated newspaper columnist and syndicated television cooking host Merle Ellis, better known as "Merle Ellis the Butcher." Merle actually has a butcher shop in Tiburon, California, just across the bay from San Francisco. Next is actor, businessman, and American Ambassador to Mexico during the Reagan Administration, John Gavin. Some of John's movies included Imitation of Life, Psycho and Spartacus. John is followed by prolific writer John Jakes, author of the Kent Family Chronicles which sold over 55 million copies. Some of John's other books include the North South Trilogy and The Gods of Newport. Now you know why I used the term prolific. John has probably sold somewhere in the vicinity of 100 million books I think John writes faster than I read.

Do you know this guy? This is a photo of actor Dana Andrews. Dana starred in movies like The Best Years of Our Lives, Battle of the Bulge, and The Oxbow Incident in the 1940s, 50s & 60s before going on to make a zillion of what were called back then "B" movies, movies like Hot Rod to Hell, Edge of Doom, and Night of the Demon. Darn it, I missed those last three.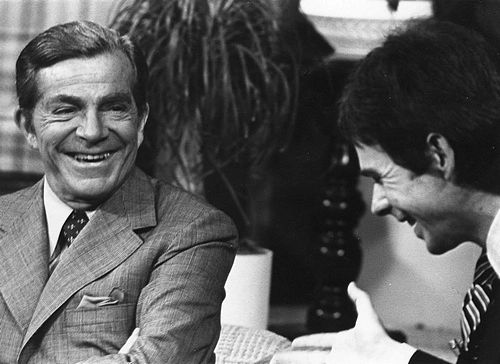 The next photo is of one of my producers, Tom Williamson, along with Morgana, otherwise known as the "Kissing Bandit." Morgana was (is) famous for sneaking onto the field in the middle of major league baseball games and kissing the ballplayers. Morgana was also known for her 50+ inch bust. Photo #2 is of Kenny Anderson, Cincinnati Bengals quarterback who led the Bengals to their first SuperBowl appearance in SuperBowl XVI (1982) against Joe Montana and the San Francisco 49ers. The third photo is of Cathy Guisewhite, Emmy Award winner and creator of the syndicated comic strip, Cathy.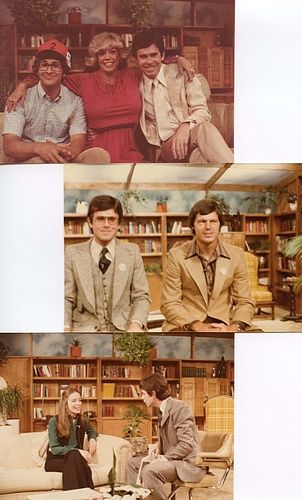 Here's another photo of Morgana...I just couldn't resist.


These next few photos are of Dayton & Cincinnati TV personalities you might remember, including weatherman Carl Nichols...

sportscasters Omar Williams & Tom Hamlyn...

...more Omar & Tom

Here's one of my all-time favorite Daytonians, Dayton Mayor Jim McGee.

From the bob Braun Show, Cincinnati's Dave McCoy.


TV-2 anchorman Ed Hart.


Ed Hart was followed at TV-2 by the very popular Chris Long who married sportscaster Omar Williams' daughter.

r
Here's a little bit of Dayton trivia to end up with. The Jerv Janney mentioned in the article below is the father of NBC's The West Wing's Allison Janney. Lot's of Daytonians have had an impact on the show-biz world, including from the West Wing, Allison Janney, Rob Lowe & Martin Sheen. Others include Phil Donahue, Jonathan Winters, Gary Sandy, Chad Lowe, Dave Chappelle, Dorian Harewood, Gordon Jump, and sportscaster Dan Patrick.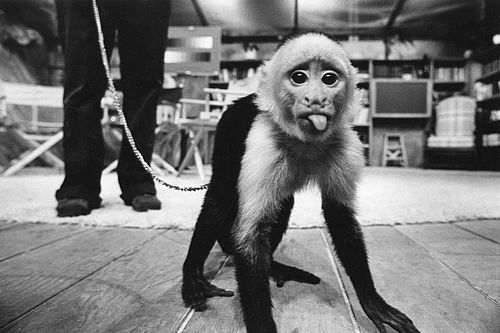 Well, that's a brief photo tour of some of my talk show life. Thanks for visiting.
I also did a children's program once upon a time. "Click" on
CLUBHOUSE 22
at the top right of this page for photos of my kids show.
I also invite you to visit my Palm Beach real estate web-site @
palmbeach-malcolm.com.


And, I invite you to take a photo tour of beautiful Palm Beach at
palmbeachphototour.com
.
For some really fun Dayton nostalgia I encourage you to visit
www.mhs77.COM
and click on the "NOSTALGIA" navigation button.
I can be contacted at
macleodpb@aol.com
Catchalater,
Malcolm